Hi!  I'm Hillel Glazer and the founder, Principal and CEO of Entinex, Inc.
My professional passion is to build high performance organizations out of companies motivated to be lean, agile, and achieve world-class results.
My best clients are companies who have the courage, leadership, insight, foresight and discipline to be the best places to work, the best value to their customers and the best performing for their shareholders.
I take a tough love approach and, frankly, have little patience for executives who *want* these things but expect to achieve them without putting in any effort or making any changes.
I am also a CMMI (SCAMPI) Certified High Maturity Lead Appraiser, SCAMPI B&C Team Leader, an SEI-Authorized CMMI Instructor, and an SEI Independent Consultant.
In that role, focus on small organizations, those using Agile development methods, those pursuing high maturity, and those applying CMMI for service organizations.
As a Certified High Maturity SCAMPI Lead Appraiser, SCAMPI B&C Team Leader, and anIntroduction to CMMI® instructor for both CMMI for Development and CMMI for Services, I'm one of the very few Lead Appraisers  trusted by small, Lean, and agile organizations to work with them on implementing and appraising against CMMI.
I am honored that the Lean Systems Society considers me to have the leadership, originality, excellence, and direct contribution to the community in this field to be worthy of the Fellow of the Lean Systems Society honorific in its inaugural induction of fellows.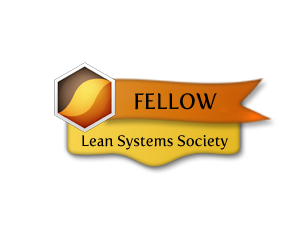 With a Bachelor of Science in Aerospace Engineering, and a Master of Science in Technology Management, I leverage a broad spectrum of experience in Engineering and Management into a no-nonsense application of business-first technology strategy.  I've been following process-centered management methodologies ever since the DoD was introduced to TQM, Integrated Product and Process Development, ISO 9000, and CMM®, and the subsequent migration of these practices to the private sector.
The focus of my career is on the issues and decisions surrounding how business processes are integrated with the processes of using and developing technology.  By specializing in bringing management-driven engineering principles together with business and operations strategies, my work results in thoroughly planned and comprehensive business solutions.
I'm pretty busy and lots of organizations want me to speak, present, train, etc. and if you're one of them, be sure to check out my stuff and this blog to get to know my style.  I've been paid to be at this since 1988 and have successfully adapted and evolved these disciplines professionally in many different places, so I can relate to all sorts of situations and can make sense out of this unusual field to all sorts of audiences in plain conversational language.
You'll see some of my handiwork in the "agile content" in version 1.3 of CMMI-DEV and in the creation of the CMMI for Services courses, and instructor qualification path for CMMI-SVC.

Hillel Glazer
Principal & CEO Entinex, Inc.